EOC Spring Schedule

Well Visit and Vaccine Reminders to School Aged Children Dreaming of a return to in-person schooling for your children or a summer family vacation? Things are looking better for 2021. The rollout of COVID-19 vaccines is encouraging and will save lives. Vaccination has never been more important to protect our families and communities. Now is the time to get your children caught up on routine immunizations they may have missed during the pandemic or are due for this year. It's time to call your pediatrician or family doctor's office to schedule a yearly checkup for your child. In 2020, it was "stay home to stay safe". In 2021, clinics are safe, sanitized and socially distant. Medical offices have taken protective measures to make sure that visits can happen safely, including: -Scheduling sick visits and well-child visits during different times of the day -Asking patients to remain outside until it's time for their appointment to reduce the number of people in waiting rooms -Offering sick visits and well-child visits in different locations A safer return to school means vaccinating your child/children this spring with all recommended vaccines. Preteens especially need to receive their recommended vaccines. Children ages 9-12 are due for four vaccines to protect against diphtheria, HPV-related cancers, meningitis, tetanus, and whooping cough. Call to schedule a well child appointment today. For more information, visit:
https://scdhec.gov/health/child-teen-health/early-childhood-health/how-often-should-my-child-get-routine-checkup

*WCS SCReady/SCPASS State Testing Dates* (Please click on image below.)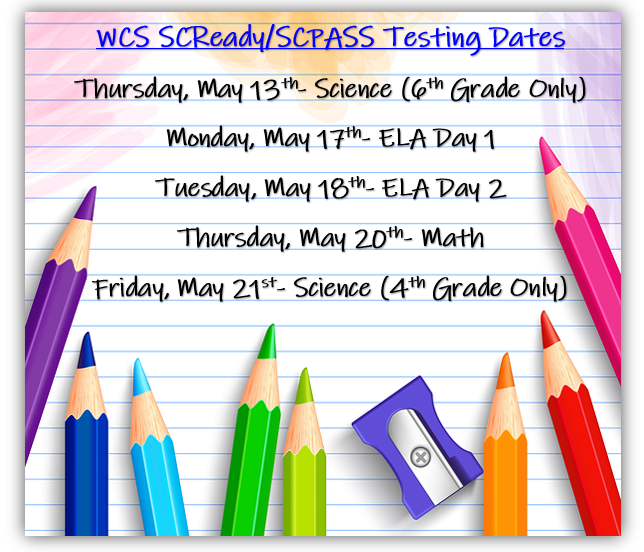 We are so excited and couldn't be more proud to announce our 2020 teachers and support staff of the year! Congratulations to Mrs. Susan Bowers, Elementary TOY, Coach Andrew Campbell, Secondary TOY and Nurse Wendy White, SSOY! Please help us congratulate them!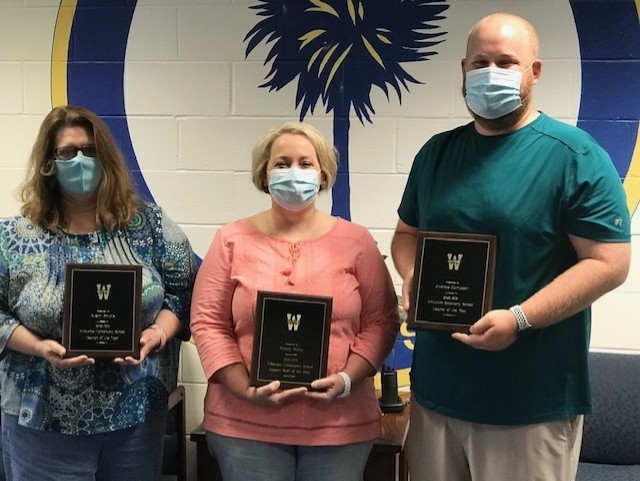 Parents/guardians of current 6th graders: All students entering seventh grade must receive or have already received a dose of Tdap vaccine on or after their seventh birthday to protect them from whooping cough (pertussis). Your child's school will need a South Carolina Certificate of Immunization, before the first day of school, showing that he or she has received this Department of Health and Environmental Control (DHEC) required Tdap vaccine. If your child has received this vaccination on or after his/her 7th birthday, please provide a copy of the SC Immunization Certificate as soon as possible. Please do not wait until the last minute. If the school does not have a current SC Certificate of Immunization showing that your child has received this required Tdap vaccine on or by registration for the 2021-2022 school year, your child will not be allowed to attend school until this requirement is met. Your local DHEC health department also can provide these vaccines. Call 1-855-472-3432 to make an appointment. For more information about vaccinations in South Carolina, go to scdhec.gov/Health/Vaccinations/ If you have any questions, please do not hesitate to contact your child's school nurse.




State Testing Window for SCReady/PASS: May 13th – June 10th Specific testing dates will be posted and sent home prior to this testing window.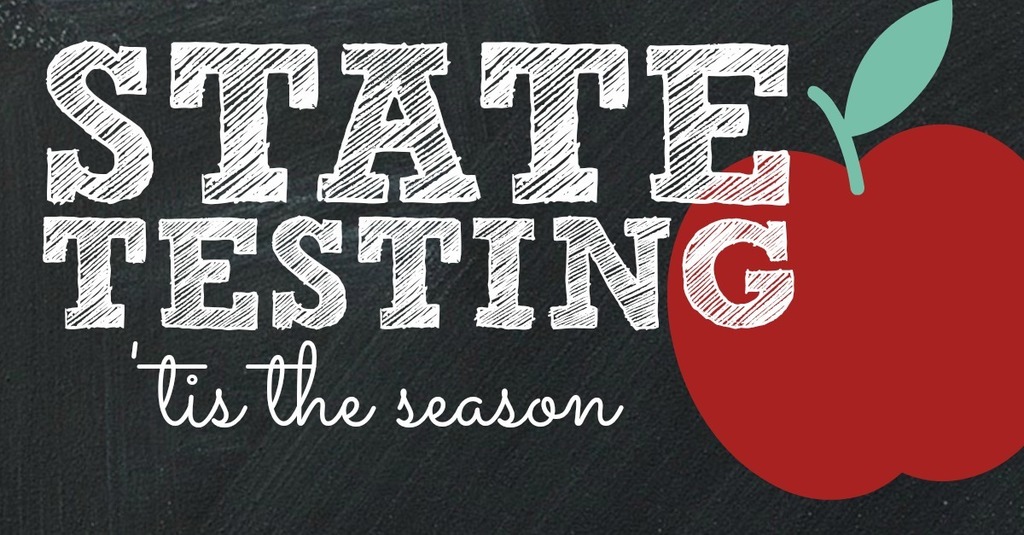 We are super excited for Read Across America Week next week! Help us celebrate and join in on the fun! We would love for you to share your favorite books with us!


For graduating seniors who are interested in applying, you must submit an essay or other creative asset detailing - How do South Carolina's laws on distracted driving stack up against other states? Is SC more lenient or strict compared to other states? Do you feel as if it helps? More information can be found here
https://www.joyelawfirm.com/joye-scholarship-program/
.


The School District of Newberry County will host its annual Recruitment Fair on Saturday, February 20 from 9 am - 11 am at Mid-Carolina High School. All open positions are posted at
www.teachatnewberry.com
. All Attendees will be required to wear a mask and social distancing guidelines will be followed.

WCS Parents and Staff, Need to report a Close Contact, Household Contact or Positive Case of COVID-19? Click here to answer a few questions (Whitmire Community School COVID-19 Reporting). If you are reporting over a holiday, weekend, or after hours, a school nurse will contact you the next school day for additional information.
https://forms.gle/rttQ6CNS2eaRWVQJ8


Calhoun Falls Charter School Basketball Guidelines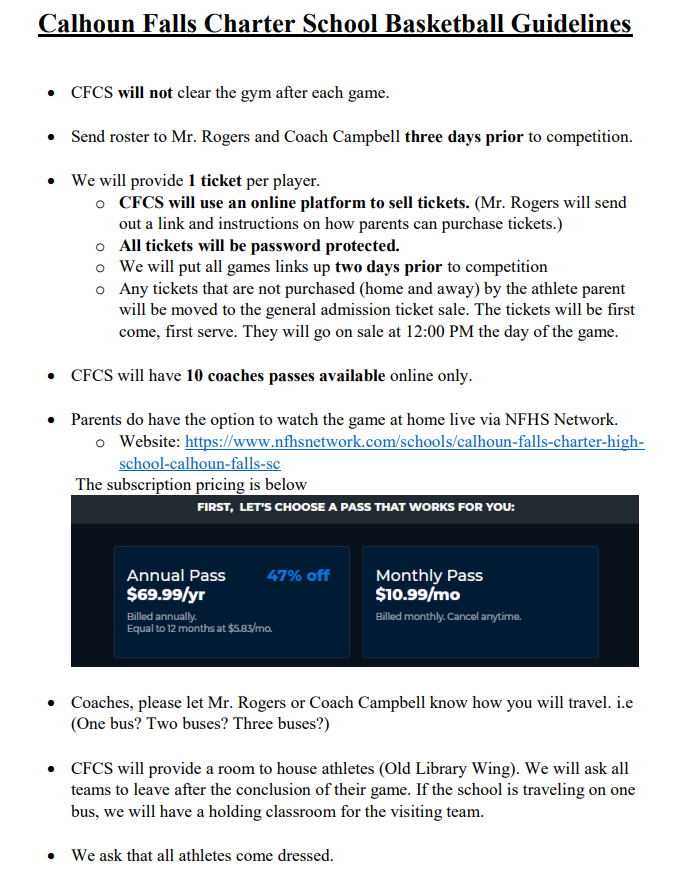 Whitmire High School First Semester Exam Schedule Jan 11 8:00 am English II Writing End of Course Exam Jan 12 8:00 am English II Writing End of Course Exam All other State End of Course Exams (Biology, Algebra I and English II Reading) will be given during the regular Exam Schedule: Jan 14 1st and 3rd Block Exam Jan 15 1st and 3rd Block Exam Jan 19 2nd and 4th Block Exams Jan 21 2nd and 4th Block Exams Algebra I EOC will begin at Noon on Jan 19 and Jan 21 instead of 4th Block.